SARASOTA, Fla. — With the completion of a new resort-like clubhouse, Sarasota Yacht Club www.sarasotayachtclub.org (SYC) is beginning a new chapter in its 84-year history while revitalizing the city's waterfront scene.
"Our beautiful multipurpose clubhouse is designed for the future," said SYC Commodore Kay Goodman. "With dining rooms and lounges overlooking Sarasota Bay, a pool and fitness center, and a full-service employee team, our clubhouse offers an ideal venue for members' family and social activities such as weddings, birthdays and anniversaries."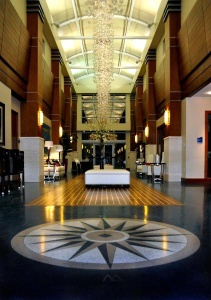 Featuring a sail-like fabric roof and modern glass and stucco exterior, SYC's 22,000-square-foot clubhouse on John Ringling Boulevard is oriented to maximize the site's waterfront setting, according to Sarasota architect Tom Denslow, DSDG, Inc. "The new clubhouse is a striking example of coastal contemporary design, driven by innovation and function, that reinforces the club's connection to sailing," he said.
Elevated over 71 spaces of covered parking, the multi-level clubhouse provides panoramic views from throughout the building, including a variety of indoor-outdoor dining options, formal and informal lounges, two dance floors and an "honors gallery" for yachting trophies, photographs and memorabilia. The new facility overlooks the club's busy marina, which can handle 100-plus vessels, including yachts up to 100 feet.
Upon arrival at a covered porte-cochere, SYC members and guests will travel along a 90-foot lobby that extends through the building and provides a direct view of the main dock in the marina. The main lobby has a wood floor inlay inspired by a classic teak and holly ship deck and is surrounded by blue terrazzo with a compass rose medallion at each entrance.
"A luxury yacht was the inspiration for our design," said Susan S. Bardin, director of interior design, Peacock + Lewis in North Palm Beach. "When you walk in, you want to know you're in a yacht club. Interior details include royal blue colors with red accents, teak woods and fixtures inspired by deck prisms that were used to light ships below decks and at night."
Sarasota-based Tandem Construction completed the new clubhouse in March, just 15 months after the ground-breaking. The club operated from an interim facility during the construction process. Designed to withstand 130-mph winds, the building incorporates numerous environmentally friendly features, including natural skylights, recycled materials, thick insulation and a highly efficient air-conditioning system.
"Tandem Construction is proud to be part of the team that created another iconic building that will grace the Sarasota skyline for many years," said Nathan Renner, project manager.
Goodman said the new clubhouse was carefully planned to accommodate the club's 511 memberships with space for 200 more in the future. "Over the next five years, we expect to see significant growth," she said. "Although we have one of the best marinas on the west coast of Florida, if not the entire state, only about half of our members own a boat. Those members, along with our boaters, enjoy our club's many social activities, outstanding food and recreational programs. SYC is not just a yacht club – it's become a resort without the rooms."
Founded in 1926, Sarasota Yacht Club is one of the original 13 members of the Florida Council of Yacht Clubs. SYC is a private membership club. It welcomes inquiries regarding club membership and boat slip availability.
For more information, go to www.sarasotayachtclub.org
Note to editors: additional photos available upon request.
Photos/Multimedia Gallery Available on Business Wire.