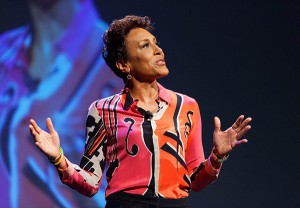 SARASOTA — When Robin Roberts realized she couldn't quite make it as a professional basketball player, she switched to the next best thing — sports journalism.
To a packed audience Monday morning at the Van Wezel Performing Arts Hall, the co-anchor of ABC's "Good Morning America" described the intersections of her professional career as a broadcast journalist and her personal life, and described the highest and lowest points in her life. Through it all, she said, it was the "three D's" from her parents — discipline, determination and 'da Lord — that kept her going.
Her adaptability and optimism showed itself early, when, after graduating from Southeastern Louisiana University, she took the only sports reporting job available, a part-time gig for a television station in Hattiesburg, Mississippi. During the next few years, she worked her way up to eventually host ESPN's Sportscenter.
In taking the lesser first job, Roberts, now 55, said she was preparing herself for the future she wanted.
"Proximity is power," Roberts told the audience Monday. "Put yourself in a position for good things to happen. I was dreaming big, but focusing small."
But it was her personal health journey, and her ability to use her platform as a nationally known journalist to educate viewers about health care, that resonated most with the audience at the Ringling College Library Association's town hall lecture series event.
It was through Roberts' work as a journalist that she discovered she had breast cancer in 2007. Her co-worker and ABC movie critic, Joel Siegel, had died of colon cancer and Roberts had reported a story with Siegel's doctor, who cautioned that if Siegel had gotten a colonoscopy when he was 50, instead of putting it off, he might have had a better prognosis.