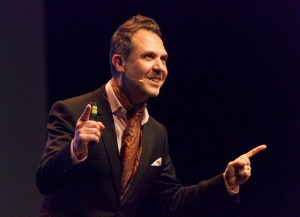 Many in the audience at Tuesday's Town Hall Lecture Series didn't know the speaker, but they sure knew his work. "Who is this guy?" they whispered before photographer Platon (just one name) bounded onto the Van Wezel stage, a mix of sharp (trim gray suit) and casual (tan suede slip-ons) armed with a remote to click through the powerful portraits on which he's built his career.
There's Bill Clinton, seated with his legs spread wide, huge mitts planted on his knees and a smile that says, hey, baby, I am the leader of the free world.
There's Russian President Vladimir Putin, with an ice-cold stare that belies his love for the Beatles.
There's Willie Nelson, so stoned he couldn't stay on his chair, hugging his battered guitar.
There's Aung San Suu Kyi, the very definition of dignity, a day or two after her release from long-term house arrest in Burma — a photographic session that netted Platon a nine-hour chase by the secret police.
Platon, whose full name is Platon Antoniou, has traveled the world to make photographs of world leaders and ordinary people, many of which have been featured on the covers of magazines from Esquire to Time. His two lectures as part of the Ringling College Library Association's annual series focused not on the technical aspects of photography (although he mentioned that he still shoots on film, not digitally, and loves to use a wide-angle lens to make his subjects seem larger than life) but on its purpose in connecting people and telling stories through portraiture.