Growth and sell-through of brand seen as unprecedented in the distilled spirits industry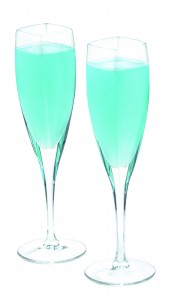 BARDSTOWN, (KY)—With the remarkable growth and proliferation of ultra-premium vodkas, ultra-pricey single malt and single barrel whiskeys and ultra-trendy rums and tequilas, what distilled spirit stands as the most successful product launch in recent history? It might make a lot of the competition blue when they find out it's Hpnotiq…the ultra-cool imported aquamarine brand that NBC-TV New York called "…the drink of choice of celebrities."
Hpnotiq, which was acquired by Heaven Hill Distilleries, Inc. in January, 2003, is achieving even greater growth and exposure as a result of Heaven Hill's long-established national distribution network and stature as the nation's largest independent family-owned spirits supplier. From high-visibility events like the Oscars, the Grammys, the Final Four, NBA All-Star Weekend and the Kentucky Derby; to the hippest spots like New York City's Metronome and Atlanta's One Midtown; to elegant white tablecloth accounts like The Blue Fin at Manhattan's W Hotel and Koi in Los Angeles, Hpnotiq is the most talked about and sought-after new product in memory. "We knew that there was a strong consumer groundswell for Hpnotiq, but it has exceeded even our expectations," stated Heaven Hill president Max L. Shapira. "We have been concentrating on expanding to new areas where the brand had not been previously sold, as well as on continuing to enhance the brand's presence in the more established markets. This has been no mean feat, given the incredible rate at which the product is being depleted both by retail and on-premise accounts."
After developing a large and loyal consumer following in the New York metro area through intensive viral marketing and memorable on-premise events featuring Team Hpnotiq, the brand has become the darling of music videos, celebrity parties and high fashion magazines nationwide. Through their position as one of the nation's top spirits suppliers, Heaven Hill is rapidly expanding distribution and leveraging their logistics network to address supply issues with Hpnotiq, which was literally going out the door as quickly as it could be re-stocked.
The result of the unprecedented trade and consumer demand has been one of the most incredible new product success stories in the industry. Heaven Hill will ship as much as 280% more product than originally anticipated under what was already an aggressive rollout plan. "We believe, based upon current sales trends, that Hpnotiq can easily become a million case brand in the not-too-distant future," noted Shapira.
The popularity of the brand throughout the country has meant that Heaven Hill and their trade partners have had to institute some extraordinary measures to ensure distribution can keep up with consumer take away. As the word spreads from consumer to consumer, from retailer to retailer, from one on-premise operator to another, the company is actively responding to an exponentially increasing demand.
"We knew that Hpnotiq was rapidly gaining a critical mass of loyal consumers in both the mainstream and urban markets," commented Jeff Homel, president of Heaven Hill's sales company. "However, even we could not anticipate the incredible popularity of the product in new mainstream markets. We have worked closely with our wholesale partners to ensure that the supplies will be supplemented—as much as humanly possible given the fact that the product literally cannot stay in stock."
The enthusiasm and reception from the trade is such that Heaven Hill expects to attain virtual national distribution of Hpnotiq within the near future, a move designed to meet demand that exists beyond the current sales areas of the product. "It's truly remarkable when you have hundreds of people in the trade and consumers contacting us to ask 'how can I get it?' or 'when will it be in my market?' " added Homel. "I believe the rapid growth of Hpnotiq is absolutely unprecedented in the spirits industry."
Founded in 1935, Heaven Hill Distilleries, Inc. is the nation's largest independent, family-owned marketer and producer of distilled spirits products. Aging in its facilities is the second largest holding of Kentucky whiskey in the world. Heaven Hill's diversified portfolio includes: the full line of The Christian Brothers Brandies; Evan Williams Kentucky Straight Bourbon Whiskey; Hpnotiq Liqueur; Whaler's Rum; Burnett's Gin and Vodka; Dubonnet Aperitif; Scotch Whiskies; Irish Whiskeys; Canadian Whiskies; vodka; gins; rums; tequilas; cognacs; liqueurs; cordials; and dessert wines. Heaven Hill is based in Bardstown, Ky.